Sampo PME-42S6 Review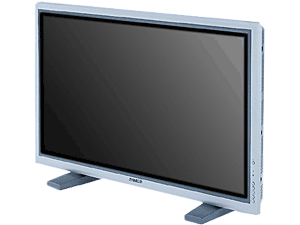 Reviewed by:
Kevin Miller
Average user rating: 8.4
Intro
Plasma panels are proliferating in the home-theater market, and their pricing is reaching new lows. Sampo's PME-42S6 is the lower-resolution, lower-cost cousin of the company's top-of-the-line 42-inch model, the PME-42X6. The S6 doesn't boast the stellar black-level performance found on the best plasmas, but its picture has plenty of other high points. And the price is right: you can get it for $200 less than the previous low-buck plasma champ, Gateway's GTW-P42M102.
Performance of Sampo PME-42S6
This 42-inch panel's precalibration picture quality was typical, which is to say severely overdriven. We had to reduce the contrast quickly to prevent permanent damage to the plasma element. On the other hand, the 6500D color-temperature setting came impressively close to the 6,500K broadcast standard. At the top of the grayscale, it measured 6,500K on the money; at the bottom, it measured 6,000K, or slightly minus blue. Postcalibration results were also excellent: the grayscale was very linear from top to bottom.

The color decoder, usually one of our biggest pet peeves from a performance perspective, was spot-on, yielding well-saturated colors, especially with component DVD and HDTV sources. The video processing is also quite good. Watching the opening sequence of Star Trek: Insurrection, we saw clear evidence that the PME-42S6 has the all-important 3:2 pull-down, which nearly eliminates motion artifacts in film-based video.

The one big negative in the S6's performance is its black level: false-contouring artifacts show up in material at or near black. The very dark opening scenes of E.T. clearly revealed this weakness; the fog was riddled with moving patches of artifacts and green splotches. After calibration, chapter 31 of Charlotte Gray looked pretty good, but it had a bit more noise than we saw on the higher-resolution PME-42X6.

The S6's display of HDTV material is acceptable but worse than the X6's. Dark scenes were again the trouble; for example, false contouring was readily discernible at the beginning of X-Men on D-VHS. These kinds of artifacts pose a problem for many plasma panels, particularly the less-expensive units, although they barely registered on our reference Panasonic PT-42PD3-P.
Features of Sampo PME-42S6
Sampo endowed its least-expensive panel with the exact resolution required for wide-screen DVD: 852x480 pixels. High-definition TV formats 1080i and 720p, as well as all other incoming video, are scaled to fit that pixel array.

We were happy to discover that the PME-42S6 can remember picture adjustments for each input separately--a real plus if you want to customize its settings for different sources. In addition to the obligatory picture-enhancement options, such as selectable color temperatures (6500D, Low, Mid, and High) and multiple aspect ratios, the S6 also has quite a few convenience features not normally found on plasma panels. PIP (picture in picture) and POP (split screen) are in attendance, along with a built-in TV tuner for non-high-definition channels. The S6 doesn't have an internal cooling fan, so it's completely silent during use.

Further adding to the S6's "regular TV" appeal are a 10-watt internal amplifier driving two small, upward-firing speakers at the rear; a subwoofer output; and SRS sound processing. SRS simulates the surround-sound experience using just a set's left and right stereo speakers.

The jack pack around back is chock-full of options. Two broadband component-video inputs ensure enough capacity for connecting a progressive-scan DVD player and an HDTV receiver simultaneously. A 15-pin VGA-style RGB input and a DVI input are on tap for computer hookup--note that the DVI input lacks HDCP copy protection, so it won't work with newer HDTV receivers. There is also one S-Video and one composite-video input, as well as an RS-232 port for use with touch-panel control systems such as Crestron and AMX.

The good: Inexpensive for a plasma; accurate color decoder; solid video processing with 3:2 pull-down; excellent connectivity; HDTV compatible.

The bad: Significant artifacts in material at or near black.

The bottom line: This is a reasonably good performer at an extremely competitive price.

CNET Networks